Ad Manager
Our Ad Manager quickly gives you an overview of all your listings, such as their type, price, cardata, listing period and package.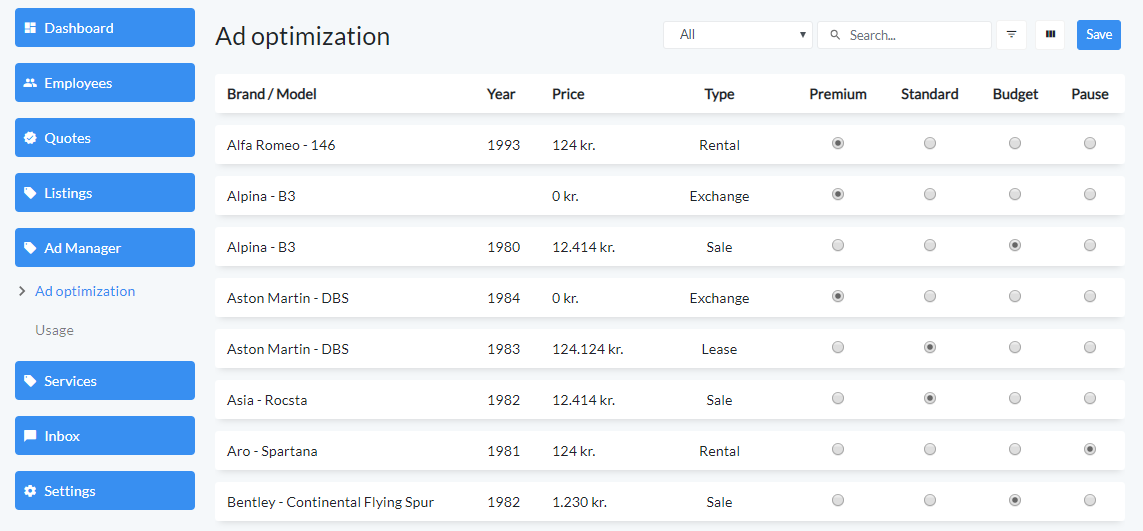 You quickly lose many hours by adjusting and updating your listings, and it´s quite easy to get frustrated.
Auto Orbis Ad Manager gives you a quick overview and easy administration of all your listings in the platform, by giving you sorting, filters and options to update multiple listings with 1 click.
---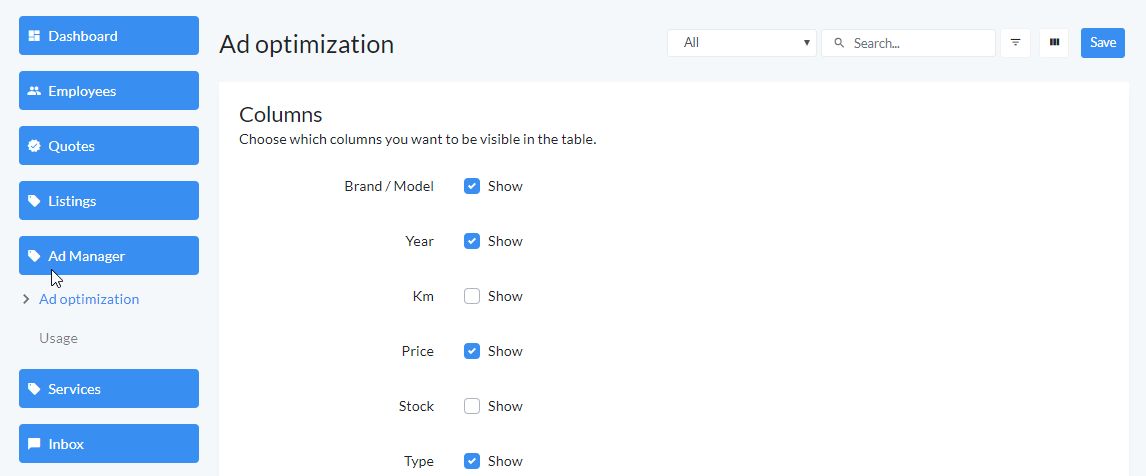 Overview
Our Ad Manager gives you a quick overview of all your listings aswell as their types, price, car data, listing period and ad package etc.
You can easily sort, filter and change the data for those listings you will see in the list, which helps you get the full overview of all your listings.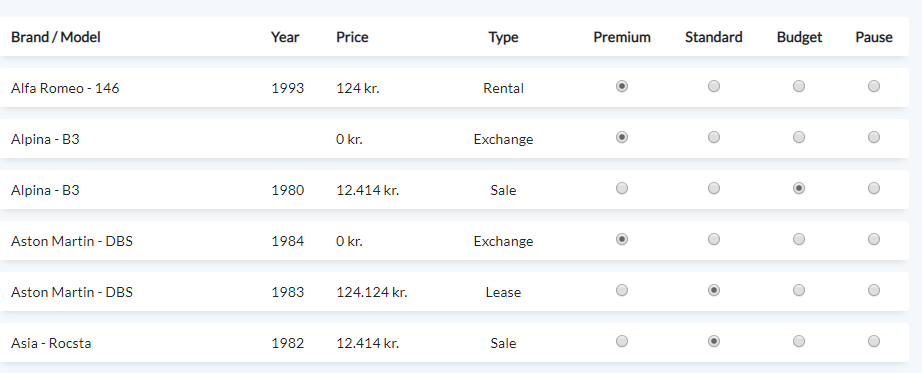 Administration
No more time wasted updating one listing at a time. In our Ad Manager you can update the listing package on as many listings as you want.
So if you want to pause all listings which have been listed for a long time, then you can do it with a few clicks.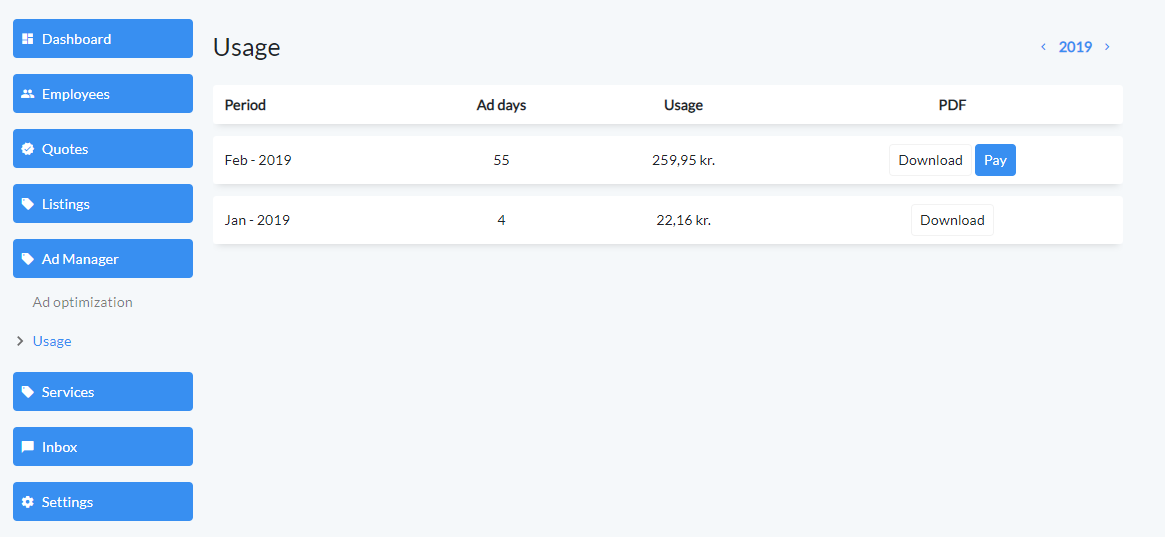 Usage
You only pay for the usage you have, and we have no min. requirements on the advertising packages.
That means, that if you upgrade a listing to our premium package, and pauses it the day after, you would only pay for that single day the listing is running.
We give you the full overview of your spending in our usage reports.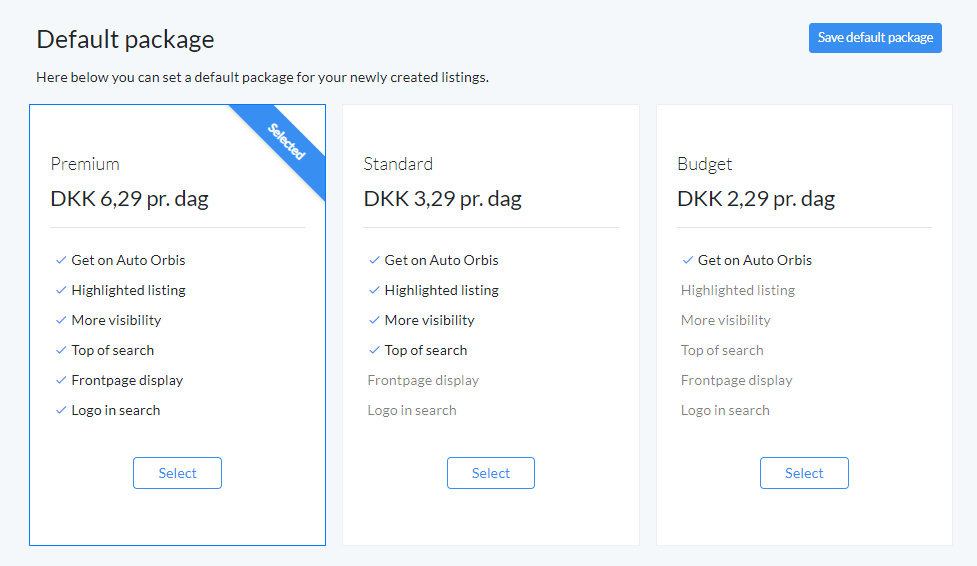 Standard Package
Always use the same advertisement package, then you can set it as a default.
That means, that every listing you create will have the default package automatically selected, so that you can save time administrating your listings.

We have more than 150+ car dealers
Auto Orbis are partners with a lot of car dealers, which gives you quick exposure and potential buyers right at your hand. By becoming a partner with Auto Orbis, you receive a lot of advantages to grow your business.
Got any questions?
info@auto-orbis.dk
We are ready for your email
Contact sales
info@auto-orbis.dk
Get started right now
Why Auto Orbis
Easy access
You always have access to Auto Orbis, from PC´s or mobile devices.
Easy to get started
Auto Orbis is easy very user friendly, and easy to get started with.
We have Apps
Use our APPS to manage your listings. We have Android and IOS.
Competitive prices
Our prices are on a great low level, so that you earn more per sale.
We have it all
If your buying, selling, renting, leasing or exchanging your car, we can help you.
Quick support
You can always reach our support trough our integrated chat, or email.
We get you clients
Auto Orbis does the marketing, you just focus on creating your listing.
Car dealers
Are you a car dealer, then read our company section. We have many advantages for you.